Statistics: 2,347 Pages | 0 active user(s) | 4,075 edits since October 9th, 2012
Welcome to The Finchel Wiki. This is a semi-new wiki that needs a lot of help, so feel free to edit pages as long as they stay within the policies. This wiki contains all your information on the couple Finchel, from the hit TV show, Glee. You will also find a bit of information about Monchele.

Finchel is the romantic, on-and-off again relationship between Finn Hudson and Rachel Berry in the hit TV show, Glee. Finn was the hot and popular quarterback, Rachel was the "loser". Finn had a girlfriend, Quinn Fabray, but Rachel had a crush on Finn since they sang together in the New Directions, their school's Glee Club. Finn and Rachel shared their first kiss in Showmance even though Finn was with Quinn. The two stayed close friends. Finn broke up with Quinn after finding out she cheated on him with his best friend, Noah "Puck" Puckerman, and got pregnant. Finn and Rachel dated for a while until Finn broke up with Rachel. Rachel started dating Jesse St. James. Finn realized that he wanted Rachel back, but it was too late. Finn confessed his love for Rachel after she and Jesse broke up. When Finn and Rachel were broken up during season two and Finn was dating Quinn again, Jesse returned. He and Rachel started dating, and Finn broke up with Quinn because he felt tethered to Rachel. The New Directions went to Nationals, and Finn wrote a song about Rachel that they sang. Finn and Rachel got back together after kissing after the song on stage. In season three, Finn proposed to Rachel in Yes/No. She said yes in Michael. On their wedding day, Quinn got in a bad car crash and they postponed their wedding until after graduation. When that day came, Finn surprised Rachel and put her on a train going to New York, her dream. In season four, Rachel met Brody Weston and they became friends. Rachel kissed Brody after not hearing from Finn in four months. Finn showed up on Rachel's doorstep later, but left in the middle of the night. Rachel officially broke up with Finn and started an open relationship with Brody. In I Do, Rachel cheated on Brody and slept with Finn after singing with him. Rachel left in the middle of the night, and a few weeks later, she took a pregnancy test. It was a false positive. In Guilty Pleasures, Rachel and Brody break up after Rachel finding out Brody was a gigolo and it's reveled that Rachel only dated him to make Finn jealous and to fill her heartbreak.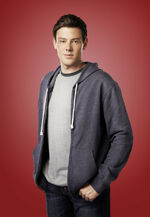 Finn Hudson is a main character on Glee. He is an alumni of William McKinley High School and former co-captain of the New Directions and quarterback of the football team. Finn risked alienation by the football team after joining the Glee Club at the beginning of the series.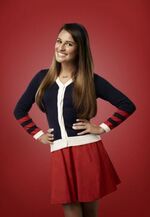 In Season One, Finn dates popular, head cheerleader Quinn Fabray, until he discovers that she slept with his best friend, Noah Puckerman, and lied about Finn being the father of her child. During Furt...


READ MORE




Rachel Barbra Berry is a main character on Glee. She is currently a student at NYADA run by dean Carmen Tibideaux. She is an alumni of William McKinley High School as of the season three graduation episode, Goodbye. She had been the co-captain of New Directions along with Finn Hudson ever since Mattress. She was one of the three major self-proclaimed divas of the club: the others being two of her best friends; Mercedes Jones and Kurt Hummel. Rachel is a very driven and ambitious young woman. She was raised by her two gay fathers, LeRoy and Hiram Berry, and was able to meet her biological mother Shelby Corcoran, the former coach of Vocal Adrenaline in Theatricality, thanks to the efforts of ex-boyfriend Jesse St. James. Rachel is very competitive and often flaunts her "diva" behavior by always demanding the spotlight and being the center...

READ MORE
The Finchel Wiki is not associated with Glee, FOX, Ryan Murphy, Ian Brennan, Brad Falchuk, Lea Michele, Cory Monteith, or anyone who works with Glee or FOX. Songs, videos, fanfictions, and pictures do not belong to us unless stated otherwise.
Community content is available under
CC-BY-SA
unless otherwise noted.