Hello fellow Finchelites. I am Rylee, as a few of you may know. Anyways, as the title of this blog says, this is a step-by-step guide to help you add infoboxes.
Intro
What the heck is an 'infobox'?
As Help Wiki says, an infobox is like a sidebar or fact sheets. They sit on the right side of the page and hold information. Infoboxes are forms of templates.
Types of infoboxes
There are many different infoboxes. The most common used ones we would use on this wiki would be Infobox character, Infobox song, and Infobox relationship.
Step-By-Step
Step 1
Click 'edit' on the page you want to add the infobox. Look on the right side with 'add features and media' and all of those goodies. Click on the templates drop box.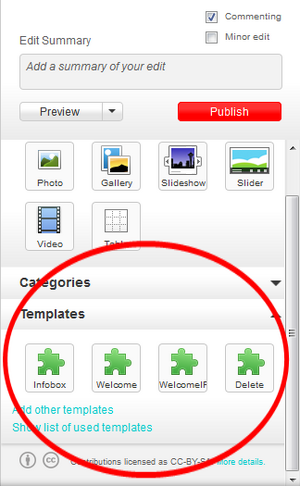 Step 2
Like I said before, there are mamy different infoboxes you can use. If you want a regular infobox, just click on the first blue puzzle piece. You can fill out the title, image, and information. To get a certain infobox, click the 'add other templates' link underneath the green puzzle piece buttons. You will get a box looking like this: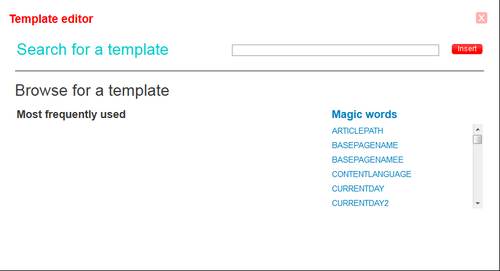 Step 3
In the search box next to 'search for a template', this is where you type in the type of infobox you want. Just type in: Template:Infobox (infobox name here).
So, if you wanted a character infobox, you would type: Template:Infobox character. For songs it's: Template:Infobox song. Relationships it's: Template:Infobox relationship.
Step 4
Click insert once you typed in the name of the infobox. Another box should come up looking like this: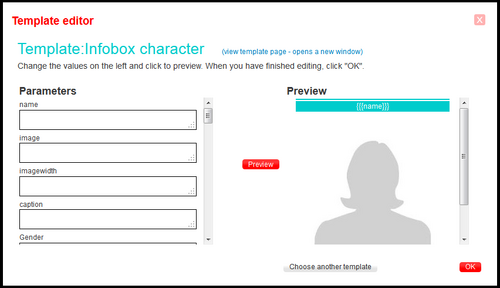 Step 5
Type in all the information in the parameters side of the box. When you click OK a small, green puzzle piece on the page you edited should show up.
To edit the infobox, hover over the puzzle piece in the page you edited and this should come up:
Click the edit button to edit the infobox. If you want to delete the infobox, click delete.
---
Yup, so that's basically how you add infoboxes. If you are still having difficulty, give me a message on my message wall (seriously, I won't bite except if you diss Finchel), or just leave a comment below.
If you would like me to do another step-by-step tutorial, give me suggestions in the comments. Kira said she's making a tutorial for colored comments (it's hard, yo), so go check it out if you wanna.
#FinchelForever,